How to choose a saw based on teeth per inch?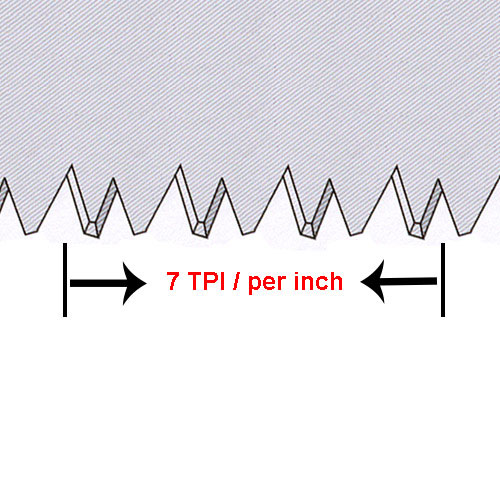 TPI is an acronym for Teeth Per Inch and is measured from gullet to gullet, not tooth tip to tooth tip.
In general, a saw with more teeth per inch cuts slower but leaves a cleaner finish; a saw with less teeth per inch cuts faster but leaves a rougher finish. Besides, the more teeth per inch a saw has, the harder materials the saw can cut through.
Coarse teeth
A bow saw is an example of a saw which have a low TPI. Bow saw blades often have 5 teeth per inch and are used for quickly cutting tree branches or roughly sawing into logs.

Due to they have lower teeth per inch, they are very suitable for cutting that doesn't need a smooth surface.
Medium teeth
Generally, the middle teeth are 7 teeth per inch of the saw blade. These types of saw blades are usually used for wood or general cutting.

Blades with medium TPI can make a balance between fast cutting and slow. If used correctly, they will cut through the material fairly quickly and create a relatively neat surface.
Fine-Teeth
The more teeth of the blades, the smaller of cutting wide, the slower of cutting speed. It is very suitable for precision cutting that needs to have straight and curved lines in wood.

A hacksaw and a coping saw are an example with more teeth per inch. They have 18TPI and 32TPI and more controlled cut in wood allowing for more detailed cuts.
Related Products

YU-9449-123

---

A 12inch (300mm) pruning bow saw with a sturdy tubular steel frame offers excellent stability and strength. Its blade tension adjustment system holds the blade in place for straight cutting and easy blade changes. This bow saw comes with three blades: saw blade with standard tooth (5 teeth per inch), fine tooth (18 teeth per inch) and finer tooth (24 teeth per inch). Three blades give users flexibility to either cut wood or metal materials. The ergonomically designed handle makes this bow saw used with ease.

---

YU-4019ATH-7T

---

This universal hand saw has a 1mm thicker blade adding stability to each stroke. Its water-lacquer blade coating provides smooth cuts. A triple ground tooth process makes teeth much sharper if compared to traditional tooth saws. Impulse-hardening teeth ensures longer lasting sharpness. The screwed handle with perfect rubberized grip can be used for an approximate 45° and 90° marking guide. It's perfect for cutting wood, lumber, plywood, and more.

---

YU-4330

---

This coping saw features its four different teeth configurations for cutting different materials, 16TPI cutting wood, 20TPI cutting hardwood, 28TPI cutting plastic and 24TPI cutting metal. This coping saw blade length is 6.5 inch (165mm) and its throat depth is 6 inch (150mm). This coping saw with a strong steel frame is designed for straight and curved line cutting. The saw blade can be easily replaced by pressing down on handle held by users. The bi-material handle is cushioned for high comfort.

---

---